Storefront - File Upload & Proof Approval System
After an order is placed, all pending orders awaiting approval are listed in the client's website dashboard with a direct link to the file upload system so the client can quickly upload artwork. The EonWorkflow™ Storefront's file upload system handles large file transfers and keeps files meticulously organized. Using the File Manager tool in the Order Workflow Dashboard, you have full access and control to all client files. With EonWorkflow the days of searching through a large FTP folder in an effort to match artwork with the corresponding order are gone.
Upon completion of the artwork, an email is sent to notify the client of the finished proof. Using their website client dashboard, clients can view and approve artwork for all orders. With the advanced upload features, clients are not forced to make decisions based on low resolution versions of the artwork thus putting you as the business owner in a precarious position.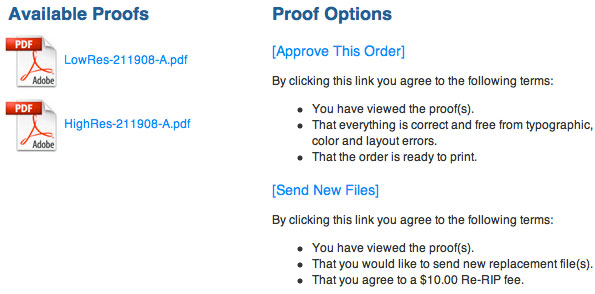 The storefront also provides safe and secure uploads if your client needs someone else (such as a graphic designer) to upload files for them. A link and upload code are provided in the recipient's order confirmation email, allowing a client to grant third-party access to upload files for a specific order without having to provide access to their entire account.