EonWorkflow™ Platinum
We have created a new Platinum edition to bundle the most requested features in ONE package! This new package is our powerful, yet easy to use ecommerce and workflow solution with some amazing new features.
New Website Templates
We have create 5 new website templates to that look amazing. They are not just a new look, but they include very comprehensive product information so your clients understand all the details of the items you sell. Plus, these templates were built with more flexibility for customization. They have been completely redesigned from the ground up to allow for extensive CSS changes, providing you with the ability to make a true "one-off" site.

New Design Online
We are now offering a new design online feature that is extremely easy for your clients to use. This feature rich designer begins with a beautiful gallery and integrates seamlessly with the ordering system.
Our customers have been asking for more templates, so we went one step further; our new design online now includes over 2500 templates for over 15 products! You can choose from over 1000 business card templates or the entire suite of 2500+ templates for products such as postcards, brochures, letterhead and envelopes. Many templates also include matching sets that allow a customer to have the same look on all of their business materials!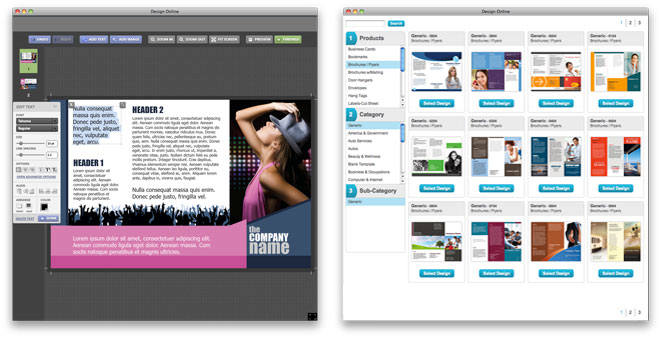 Contact your sales representative today for more information about EonWorkflow™ Platinum or
schedule a demo.