Storefront - Product Calculators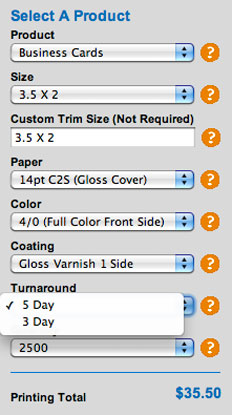 Printing has become more competitive with the increasing number of online print retailers. One of the key elements to getting potential clients to make their first purchase from your website is the accessibility of pricing. If a potential client cannot quickly find what they are looking for, they will move on to the next online retailer.
The Storefront makes finding product information and pricing a simple process with the dynamic Product Calculator feature. Clients can select from all available options offered by your business and get a price instantly. They can even get shipping quotes without having to go to an order form.
Once the desired options are selected, your client can print a quick estimate or immediately place the order. Learn more about EonWorkflow's web to print order management and estimate system or register for a live demo and watch one of our printing industry experts utilize this software in a real world setting.