Dashboard - Order Management
At the heart of your printing business is the need to effectively process customer orders and efficiently deliver product - at the heart of the EonWorkflow™ Dashboard is the order management system that will revolutionize the way this is done. With powerful search capabilities, you can rapidly sift through orders by number, customer, department, status, date range or a combination of parameters. Immediately available is the key information to the decision process that will help you keep on top of order progression.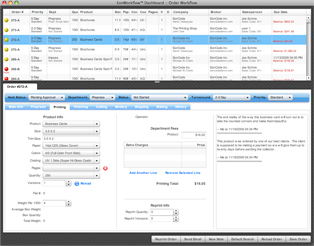 Selecting a specific job reveals all order details and allows you to make changes as necessary. The detail view separates each department to simplify finding the information you want. Quickly locate order totals, pre-production information, product details, bindery, shipping and mailing information, and then add custom information or charges if necessary.
The order management features of the Dashboard are part of every EonWorkflow license. In an effort to match costs to need, the order management tool is highly scalable streamlining the nations largest shops as well as helping independent designers manage customer orders.